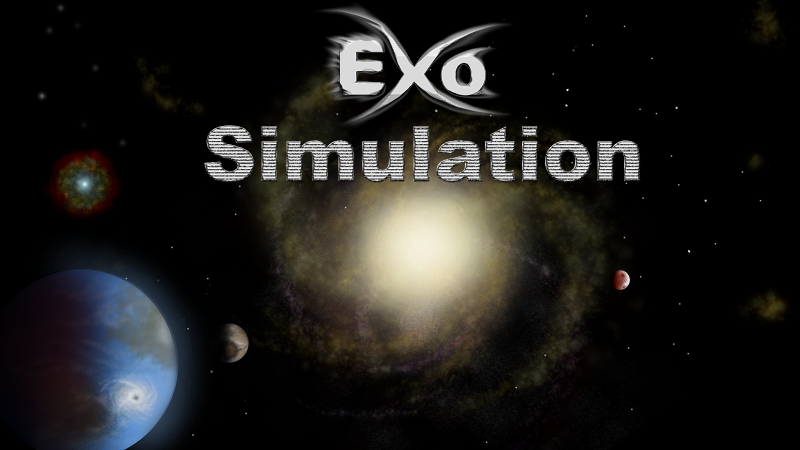 Exo Simulation
Exo Simulation, Update 0.6.6
---
[ English ] [ Français plus bas ]

/ ! \ YOU WILL LOSE YOUR SAVE THIS TIME, IF GAME CRASH AT START, PLEASE DELETE YOUR SAVES FOLDER. / ! \
Hi,
a lot of changes since last update and more will come soon ! I've been focused on updating the travel system to make it less boring and a bit more useful. I've changed the way events occur during travels, added and changed some of them.
As i was working on that part, I've decided to change shopkeepers encounter to space stations. It add the possibility to buy a new spaceship and few more things to come soon. The shopkeeper have been moved to the space station.
It still need some polishing, it's still a bit raw but I will work on it and make an update for Friday.
I've added below a list of most important changes, if you have any question or suggestion, please contact me.
Want to support development or buy the game :
https://gregorygentilhomme.itch.io/a-gods-job
Thank you for playing !
Greg
Exo Simulation, Update 0.6.6
GAMEPLAY :
- Reduced the price of all resources, items price is base on resources needed to craft them so it change their prices too.
IMPROVED LAB :
- Fixed graphical issues and Reducing map size in memory.
- Added the possibility to save and load the lab state including map, life forms and lab's settings, It can takes a minutes or two.
SPACE TRAVELS :
- New events icons on top left of the screen, click them to activate the event It can be communication, mystery pods or space station.
MYSTERY PODS :
- Added a chance to find pods during space travels. They contain items, money and / or resources. Loots is random, but pods energy's color tell you if it's rare one. Green, Red and Gold, from common to rare.
SPACE STATIONS :
- Changed shopkeeper encounters to space station. On board, you can still go to the shop as it was before. You can buy a new spaceship, they cost a lot of money and will probably need some balancing. Most of the stations' features are not enable yet, so don't be surprise if some section are empty. Stations are a work in progress.
GAME CRASH :
- Sometimes the game crash and ask you if you want to try continue, if you answer yes the game will try to keep running. If you answer no, the game will save and close.
MINOR CHANGES :
- Code clean up
- Small bug fixes and improvements in the game engine.
- Fixed more typos.
[Français ]

/ ! \ VOUS ALLEZ PERDRE VOTRE SAUVEGARDE CETTE FOIS, SI LE JEU PLANTE EFFACEZ LE DOSSIER SAVES / ! \

Salut,
beaucoup de changements depuis la dernière mie à jour et encore plus à venir ! Je me suis focalisé sur le système de voyages spatiaux pour le rendre moins ennuyeu et plus utile. J'ai changer la façon dont les événements se produise, ajouté et modifié certains.
J'ai également changer les rencontre avec les marchand en stations spatiales. Elles ajoutent la possibilité de changer de vaisseau spatial et d'autres choses sont à venir. Le marchand a été déplacé sur la station spatiale.
Les changements nécessite encore un peu de travail, mais une mise è jour est prévue pour vendredi..
J'ai ajouté plus bas la liste des principaux changements, si vous avez des questions ou suggestions, contactez moi..
Vous voulez aider au dévellopement ou acheter le jeu :
https://gregorygentilhomme.itch.io/a-gods-job
Merci de jouer !
Greg
Exo Simulation, Mise à jour 0.6.6
GAMEPLAY :
- Réduction du prix des ressources, ce qui change aussi le prix des objets.
AMÉLIORATION DU LABORATOIRE :
- Correction des problèmes graphiques et réduction de la mémoire.
- Ajout de la possibilité de sauvegarder / charger l'état du labo.
La sauvegarde contient la carte, les formes de vie et les paramètres du labo. Le processus peut prendre une à deux minutes.
VOYAGE SPATIAL :
- Les nouveaux événements apparaissent en haut à gauche sous forme
d'icônes, cliquer dessus lance l'événement.
CAPSULES MYSTÈRES :
- Ajout d'une chance de trouver une capsule lors des voyages
Elles contiennent des l'argent, des objets et/ou des ressources.
Le butin est aléatoire et la couleur de l'énergie indique la rareté. Verte, rouge et dorée, du commun au rare.
STATIONS SPATIALES :
- Changement des rencontre avec les marchand en stations spatiales.
A bord vous pourrez accéder au marchand comme avant. Vous pouvez aussi changer de vaisseau, ils sont un peu coûteux et leur prix aura
besoin d'être ajuster.
PLANTAGE DU JEU :
- Il peut arrivé que le jeu plante, il vous demandera si vous voulez continuer, si oui le jeu va essayer de continuer de s'exécuter, ça peut fonctionner. Sinon le jeu sauvegarde
et se ferme.
Changement mineurs :
- Nettoyage du code
- Correction de pites bogues et amélioration mineures au moteur du jeu.
- Correction d'erreurs de frappe.
Files
ExoSimulation 0.6.6.zip
60 MB
Feb 17, 2018